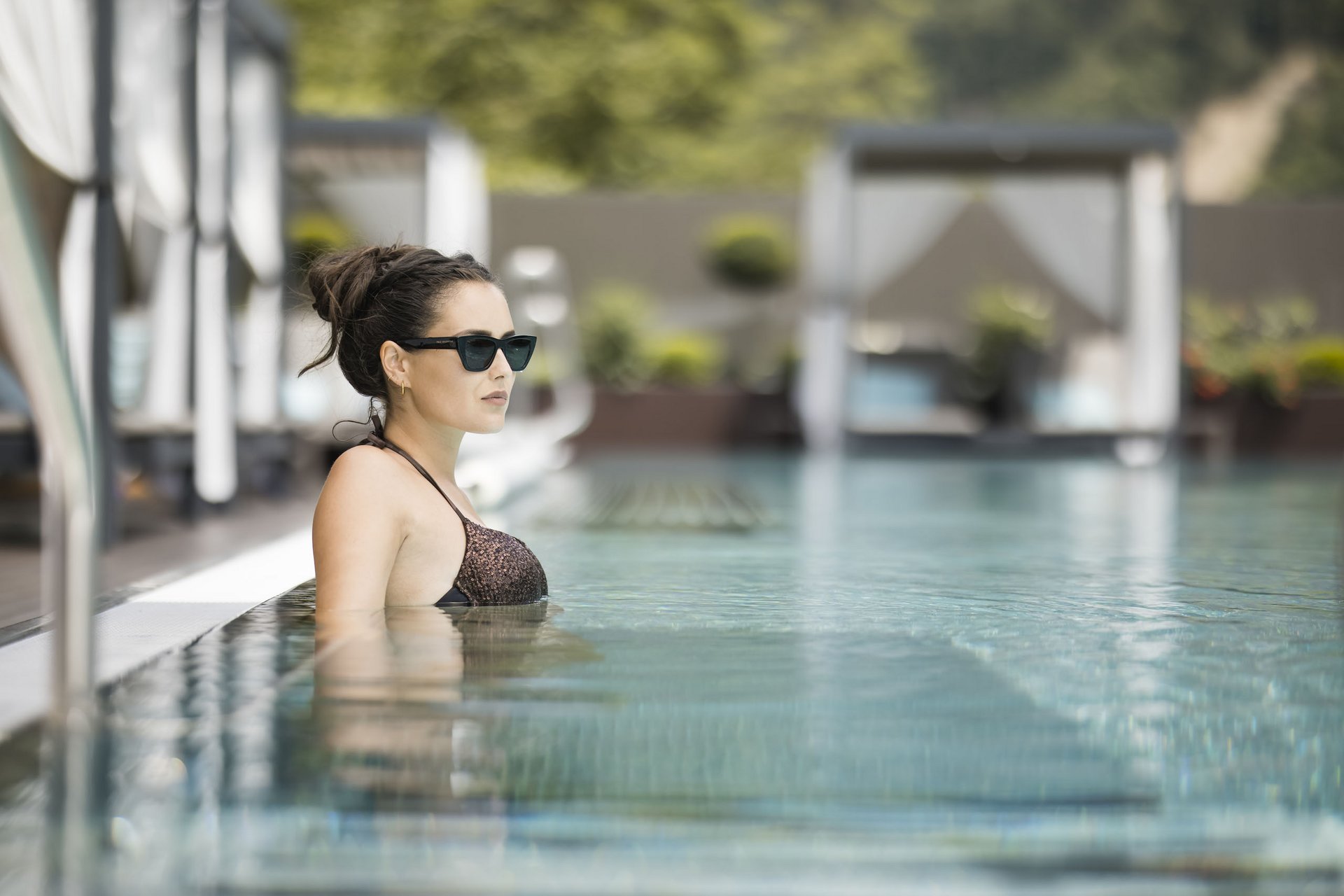 Aquatic fun at the hotel with an infinity pool in South Tyrol
Enchanting pool moments
A green oasis in the middle of the spectacular Passeier mountains. A secluded garden with palm trees and Mediterranean flora, dotted with refreshing pools. On the roof of the Alpenschlössel, the Sky Infinity Pool offers a fantastically far-reaching view. Not to be outdone, the indoor pool promises sheer aquatic joy. At Hotel | Chalet Das Alpenschlössel, relaxation and rejuvenation take centre stage. More than just a hotel with an infinity pool in South Tyrol, it offers an array of wellness luxuries. Our tip: book our Spa Suite, your exclusive cuddly oasis with a steam bath and double tub, to enjoy exclusive wellness treatments in intimate togetherness with your partner. By the way: Guests of Alpenschlössel are free to use all pools of Quellenhof Passeier.
Your hotel with a Sky Pool in South Tyrol:
the Alpenschlössel
On the rooftop our hotel with a private spa near Meran lies a jewel: the 19-metre Sky Infinity Pool for guests aged 14 and over. Here, you can enjoy a fabulous view as you glide gently through the water, which is heated all year round, or relax on the pool's bubble loungers. Take a seat in the integrated whirlpool and feel the soothing power of the water. Among all the hotels in Meran and the surrounding area with a pool, the Alpenschlössel stands out as a tranquil refuge. Our hotel with an infinity pool in South Tyrol has a lot to offer. You can rejuvenate in the invigorating Kneipp pond, for instance, especially after detoxifying and shedding the stresses of everyday life in the adjoining outdoor sauna.
Indoor and outdoor aquatic bliss
Not just on the rooftop terrace but also in the indoor pool and its relaxation area, you are free to unwind and swim at your leisure. In addition, our hotel with an infinity pool in South Tyrol is a haven for families. In the 21-metre-long Family Pool in the outdoor area, young and old can look forward to boundless aquatic enjoyment. While the kids splash around and play, the adults can relax in the cosy quiet zones.
An adults-only area in the hotel with an infinity pool in South Tyrol
The spacious, modern adults-only garden with cuddle spots and cosy quiet zones is a real highlight for guests aged 14 and over. Enjoy the soothing tranquillity while soaking in the XXL panoramic whirlpool and savour each moment to the fullest. As you bask, let your eyes trace the untouched beauty of the Passeier mountains on the horizon and feel every fibre of your being relax.