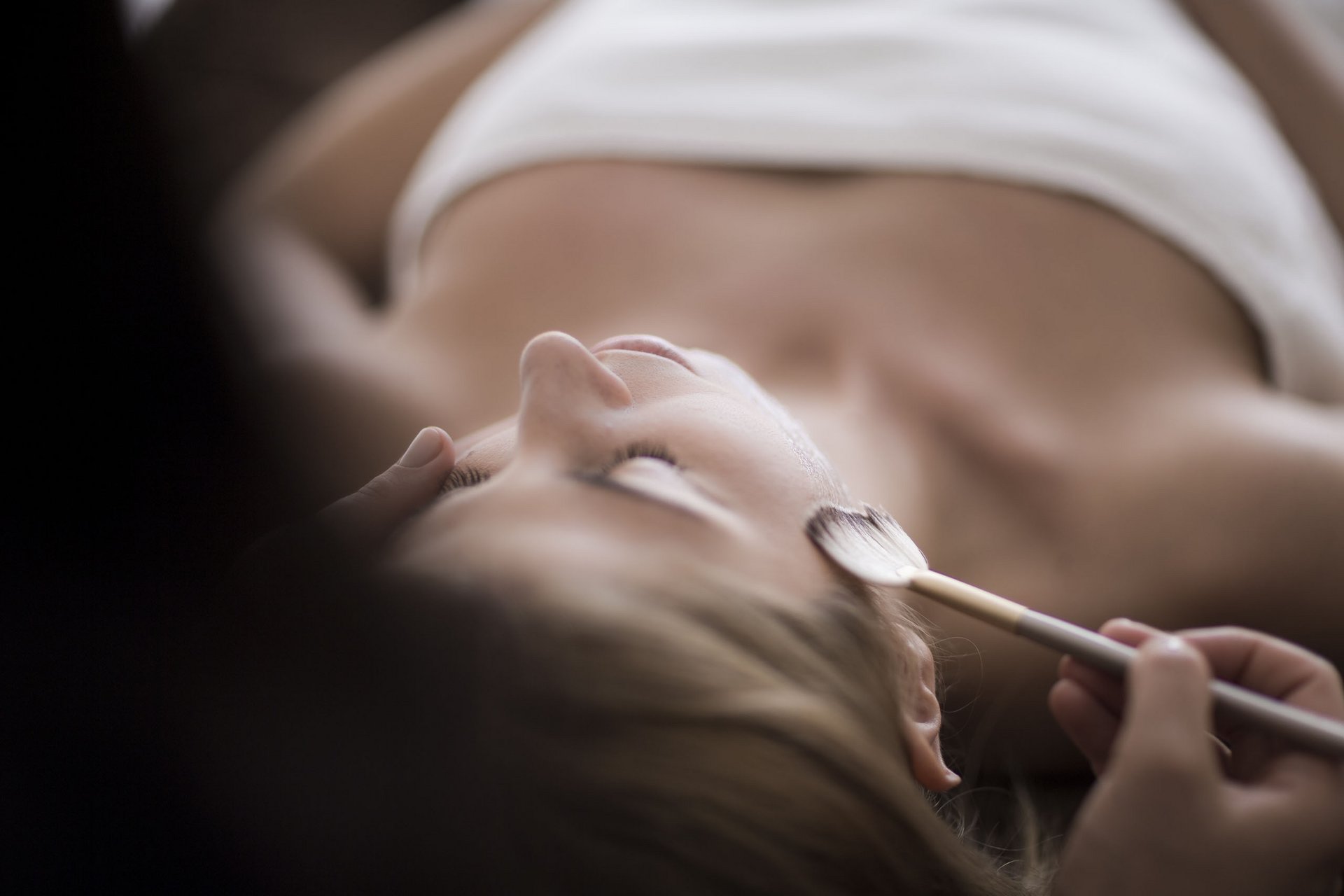 Gather strength at our wellness hotel in Meran and Environs.
Pure relaxation
Silence the mind's chatter. Focus solely on yourself and your well-being – that is all that matters. In our wellness hotel in Meran and Environs, Hotel | Chalet Das Alpenschlössel, you become one with yourself and with nature. Our wellness highlights provide soothing and long-awaited relaxation with profound and lasting effects. Let our experts pamper you with the best products. As guests of our hotel with an infinity pool in South Tyrol, we also invite you to use all the wellness and spa areas at the Quellenhof Luxury Resort Passeier, situated just 300 metres from the Alpenschlössel.
Our tip: even a day spa at our wellness hotel in Meran and Environs works wonders.
Cool mountain views at our wellness hotel in Val Passiria/Passeiertal
Dive into the cool water of our outdoor pool or indoor pool and let the buoyancy of the water soothe your soul. Relish the serene floating sensation, which promises pure relaxation. For those seeking a breathtaking panorama while swimming at our wellness hotel in Meran and Environs, we recommend the 19-meter Sky Infinity Pool on the rooftop terrace, exclusively for guests aged 14 and over. A refreshing treat, especially after a sauna session, is a visit to the Kneipp pond in front of the natureSAUNA for some cold-water therapy. The XXL whirlpool not only offers pleasant relaxation for tired muscles but also a fantastic mountain view. A highlight for young and old is the 21-metre-long Outdoor Family Pool with indoor access, which offers all kinds of wholesome fun.
Experience moments of silence and relaxation. Cosy relaxation corners in the spacious garden invite you to lean back and slow down.
An adults-only sky pool with view of the surrounding mountains, an XXL panoramic whirlpool, a natural bathing pond, and two family pools provide pure bathing fun.
In the small but charming natureSPA you will experience feel-good moments in a class of their own. A highly qualified beauty team takes care of your well-being.
Sauna bliss at our wellness hotel in Meran and Environs
In our wellness hotel in Meran and Environs, it's not just the expansive pools with panoramic views that promise rest and relaxation. Our four saunas also invite you to indulge in rejuvenating experiences. Visit the natureSAUNA area with its outdoor Finnish sauna by the Kneipp pond for guests aged 14 and over or enjoy the view of the secluded garden from the bio panorama sauna. A visit to the mild steam bath will leave your skin glowing as the steam opens and deeply cleanses your pores. Finally, the infrared Soledom sauna with backlit salt stones provides deep-acting and healing warmth. After your sauna session, refresh yourself in the cool water, and then retreat to one of the numerous relaxation lounges with a refreshment bar to unwind completely.
Massages and treatments at the natureSPA
The warm essential oils coat your skin. With each targeted massage stroke, they penetrate deeper and deliver their full effect. The tension in your muscles eases. Your body feels light, your mind free. At the natureSPA in our wellness hotel in Meran and Environs, the masseurs and beauty experts of the 5-star hotel near Meran will pamper you from head to toe and give you personalised advice on the various treatments.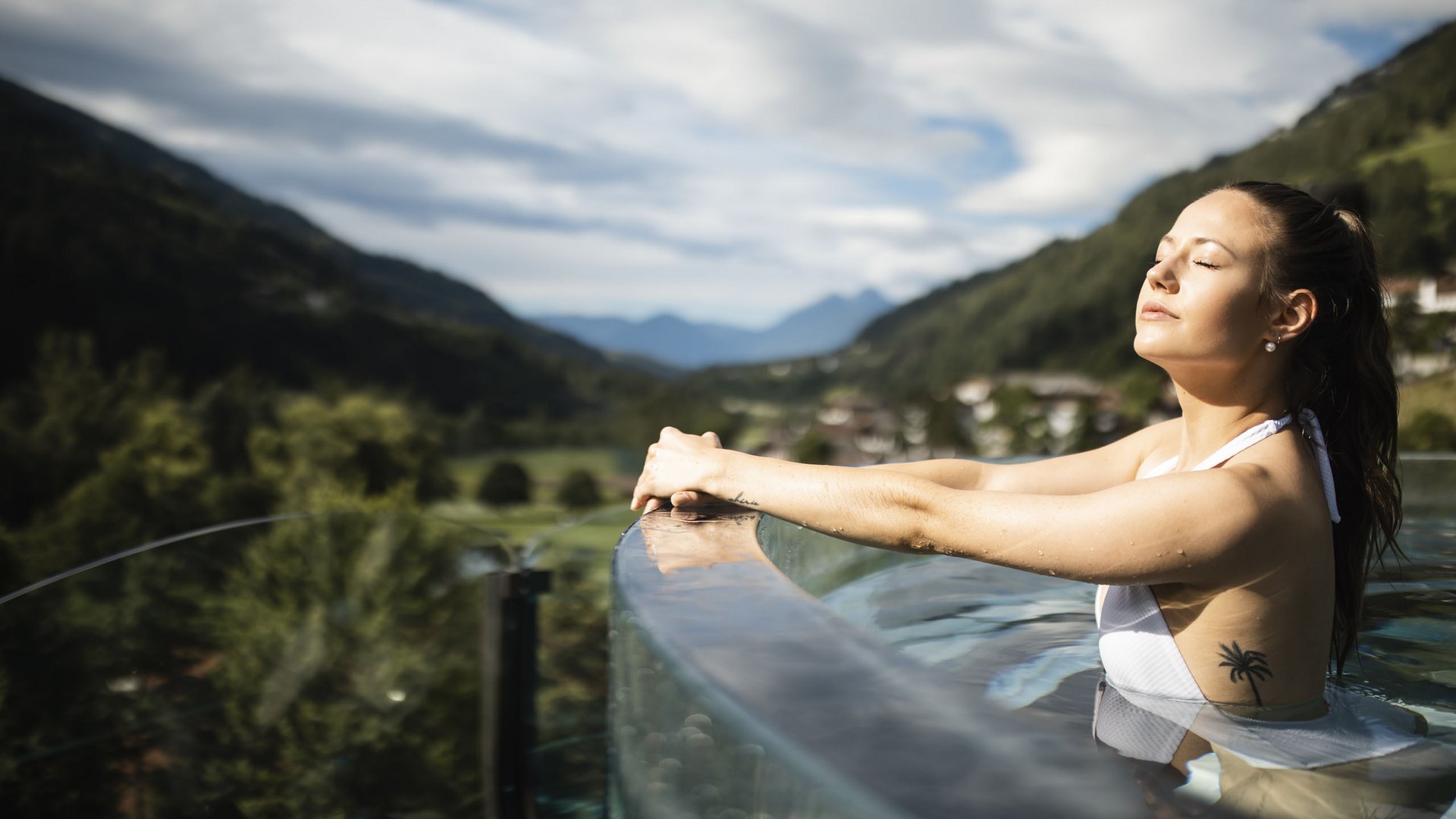 All guests of the Alpenschlössel have access to the extensive spa facilities of the main Quellenhof resort:
10,500m² wellness area
Separate areas for families and adults
Adults-only areas: the Vital Spa and Rooftop Spa with 32°C indoor and outdoor pools, outdoor saltwater pool, Salounge, natural bathing pond with access to whirlpool, two sauna spheres in the park, Lake Event Sauna, relaxation park with many cosy relaxation spots, glass infinity pool, and 25-metre sports infinity pool
Family areas: Acqua Family Parc and Family Spa: secure toddler pool, two indoor water slides – a 102-metre innertube water slide and a turbo slide with drop start for the older children, a lazy river, an outdoor pool (heated year-round) with bubble loungers. In addition, indoor pool with whirlpool, an outdoor adventure pool with large outdoor slide and pool bar, and a dress-on family sauna village with Tyrolean Alpine sauna, salt grotto, and much more
QuellenhofSPA with a variety of beneficial treatments